More stores will be added, so check back often! You can help!
These banners have special links in them, through the CafePress Affiliate Program. By purchasing through these links, not only will you be helping the causes listed on each page, an additional 15% will be added to my affiliate account. (All without any extra cost to the buyer!)
The additional 15% that I earn through these links will be donated to Jackson's Heart Fund. Please repost these, and if you show any of these banners on your page or elsewhere, you can replace the link with the link below. Periodically, I will change where my 15% is donated, but anything earned through these links will probably always be donated to a CHD group/cause/person.
I have decided that any purchase made at Mila's Store will be sent to her mom, Andi, who is setting up a foundation for single parents with terminally ill children.
If you have a CafePress Store and would like it added, email me the link, xbratx0203x@aol.com. If you have a banner for it, include that too!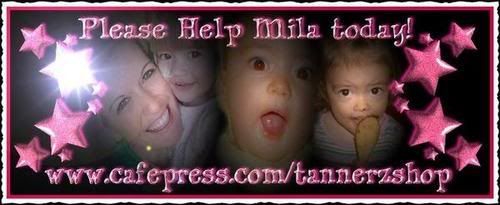 Visit Kai's 3 CafePress stores:
Kai's Hope for Broken Hearts
Kai's Hope for Broken Hearts - Sister Store
KHBH Personalized CHD Awareness Store

Visit Saving Little Heart's store

Show off your Special Heart with CHD products from CafePress!!