This is the bulletin that has been posted over and over again for Porter. Please take a few moments to read, and watch the video. Grab your kleenex first. Porter will be laid to rest on Thursday, at 2 pm ET.



From: CHD H.E.A.R.T.~ Rest in peace Porter
Date: May 9, 2007 5:16 PM


~Our last Dedication bulletin. Please read to the end to see all additions and updates.~

*We will send out the most recent Porter Dedication Bulletin through WED. On THURS, when he is laid to rest, we will not post any bulletins. This will be our moment of silence and reflection dedicated to Porter. CHD H.E.A.R.T.





*We have approved this with Abby*

In honor of Porter, silicone bracelets are available in two styles. The bracelets are $5 each. All proceeds will be donated to the CICU at Children's Hospital of Boston in memory of Porter Jackson Earle.

All purchases must be made by May 30, 2007. One bulk order will be made June 1, 2007. It is important that you email chdheartfoundation@yahoo.com with your address and quantity/style of bracelets ordered. (This is just a back-up to insure everyone receives their purchase.)
You can visit our profile page (www.myspace.com/chdheartfoundation) at any time through May 30, 2007 to purchase. (see Interests section)
or
Click on a bracelet below to make secure purchase through PayPal. (You DO NOT need a PayPal account. We accept credit card payments.)

Click here to purchase blue/clouds "In Memory of Porter"/"Angel on Earth & in Heaven"


Click here to purchase red/blue "In Memory of Porter"/"CHD Awareness"






Another way to honor Porter...

(Thank you Tara for this heart-felt idea)

Tonight, many of us plan to light a candle from 6pm-9pm in Memory of Porter, please join us.





Another way to honor Porter...

(repost from Jessica)

Since I live too far away to attend Porter's wake tonight, this morning I decided to wear all of my hearts today in Honor of Porter. I have on my heart ring, my heart earrings, my heart necklace, and, of course, the heart pin that I wear most days for Jackson. I also have on a red sweater. Today, all of this is for Porter's very special and very strong heart, we will all miss you.





Another way to honor Porter...

Mary (CHD Awareness is What I'm About) has magnets available. All profits will be donated to Chloe Duyck Memorial Fund for Hypoplastic Left Heart research in honor of Porter





(form Chrystal)
I had thought about remaining silent today, as many have come up with that idea. to pay respects to Porter and his Family.

I was going to write a poem but time flew by so quickly. I was reading through my Yahoo CHD Group where I had posted all about porter. A woman named Mona left me a comment In regards to Abbys blog about the birdy who visited them. this is what it read

"That bird WAS Porter. We have a saying in Islam that babies who die become birds in heaven, where they wait for their parents to join them. That part of her entry confirmed this to me. May God help them in this difficult time."

Now doesn't that just give you goosebumps and at the same time such a warm and happy feeling.

Porter finally got to experience all the things he never could in that hospital bed. I guarantee he's finally seen a sunrise, a sunset, the wind on his face, and sand in his toes.

I dont know if anyone knows the footprints verse but im going to post it... it is my favorite as my great grandma howdo had introduced it to me as a little girl. I'm sure my grandma howdo is watching over porter now.

And I know that God is holding his parents in his loving arms while Porter sits on his lap and tells him all the wonderful things his mommy and daddy did for him.

He's no longer suffering no longer broken his once half heart is whole again. Even though we will miss him, I know I can physically feel the loss. I'm so very happy that he can sit with God and finally feel no pain... He will forever watch over his parents, and until the day they meet him again he will be telling all the other angels about how great his parents were how his mommy read to him, how they held him, and loved him so. He's the proudest angel up there right now I bet. He knows how special his parents are.

Chrystal Loyd



One night a man had a dream. He dreamed
he was walking along the beach with the LORD.


Across the sky flashed scenes from his life.
For each scene he noticed two sets of
footprints in the sand: one belonging
to him, and the other to the LORD.


When the last scene of his life flashed before him,
he looked back at the footprints in the sand.


He noticed that many times along the path of
his life there was only one set of footprints.


He also noticed that it happened at the very
lowest and saddest times in his life.


This really bothered him and he
questioned the LORD about it:


"LORD, you said that once I decided to follow
you, you'd walk with me all the way.
But I have noticed that during the most
troublesome times in my life,
there is only one set of footprints.
I don't understand why when
I needed you most you would leave me."

The LORD replied:


"My son, my precious child,
I love you and I would never leave you.
During your times of trial and suffering,
when you see only one set of footprints,
it was then that I carried you."



Thinking Of You Porter!




Blog from Abby:
Visiting hours will be at White-Fiess Funeral Home in Morrisville, VT Wednesday night from 6-9pm. We will have a graveside service at the Eden Corners Cemetary in Eden Thursday at 2pm.
I want to thank everyone for thier condolences and prayers. Some people have asked about our address, our home address is
351 South Pond Road
Eden Mills, VT 05653
In Leui of flowers, contributions can be made to Childrens Hospital Boston Cardiac Intensive Care Unit in Porter's name.
again, thank you all so much, Porter was so well loved
It was hard to sleep last night. I wouldn't let kevin fall asleep because I was afriad to be awake alone. After so many weeks of sleeping in the hospital I kept expecting to hear the monitors beeping and the vent rumbling. I still can't always understand that you are really gone. That i will never see that beautiful face again. Sometimes I cry. Sometimes I don't. We made the arraingements today, and picked out some beautiful flowers. I don't know hwo to go on. I don't know how to live anymore. I don't know what to do with your room. I had daddy cover the door with a sheet because I couldn't stand to look at all those things you never got ot play with. everyone keeps saying how sorry they are, and I dont even know what to say. I am without words. I am scared. I am lonely. I miss you so much already.
Last night when we got home, the weirdest thing happened. Kevin was hollering for Ringo, our dog, to come inside and I heard a banging at the window. I figured it was Ringo and I would go tell him to come around to the door. But it was a little bird. It was trying so hard to get into the house. He kept pecking at the window, he kept trying to fly in. Eventually he just sat on the window ledge and stared in at us as we stared out at him. He wasn't afraid, he just wanted to be with us. I wanted to let him in the house so badly but we knew we couldn't. Finally I said, "it;s ok little bird, you can go home now" and he flew away. I dont know if it was Porters way of saying goodbye to us... or if it was just a weird coincidence.
I wanted to come home so badly, but it was so hard. Everything was just as we had left it when I went into labor. I can't beleive Porter never even got to come home.
I know the pain is just begining. I don't know what else to do.






We plan to post Porter's picture as our default until he is laid to rest Thursday.






Thank you Chrystal for this beautiful montage...
**If you would like to have Chrystal include a message from you on this video, please go to her blog at www.myspace.com/chdawarenesskai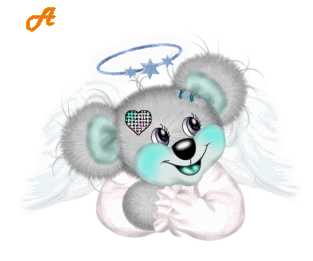 From Abby ~ goodbye, my love

Porter Jackson Earle became an angel today. He passed away silently in his mommy and daddys arms at 2:42pm.

He was the most special little boy I have ever met, and I will love him until the day I die. We listened to a CD that John Michael's mom gave to us as he passed away. As with all things, Porter did this his way, and in a way that was a gift to us because we didnt have to make the decision of when to let him go.

I will let you all know about arraingements when I know more.

I thank you all for your prayers and love.
http://www.myspace.com/northern__girl





FROM Mz. PEBBLES





FROM SHAWNIE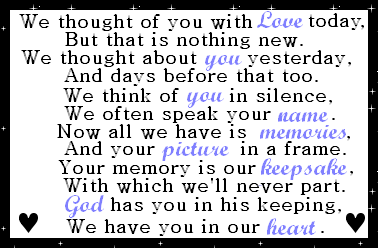 We have started a candle group in memory of Porter. To light a candle, please click on candle below (You should be directly linked to Group PJE for Porter Jackson Earle)

**Remember, a candle stays lit for 48 hours until it burns out. You can relight a candle if you wish.




Direct link http://www.gratefulness.org/candles/candles.cfm?l=eng&gi=PJE





Did you see that people from 7 countries have lit candles in Porter's memory? Although his little body did not live outside that hospital, his spirit travelled beyond the oceans and his life touched the lives of so many. Like many friends here on myspace, I can not explain the emotional attachment either. All too often, I read of CHD children earning their wings. But Abby shared Porter with us in a way that we all felt him...we could actually feel him in our hearts. He gave us hope, he renewed our faith...he was an angel on Earth. He will be greatly missed by many. Vanessa






----------------- Bulletin Message -----------------
From: Tami is Praying for Porters Family, RIP Lil Man
Date: 07 May 2007, 03:24 PM

Dear porter,
The last four months I've prayed for you and read all your mommys blogs. You were an amazing little boy. I wish i would of had a chance to meet you. I dont cry because your gone, I cry because all the years you'll never have to make memories. I'll cry because your parents have to go through the pain of losing such an amazing little boy. You are one of my heros, along with all the other CHD angels. I hope someday in heaven i get the chance to meet you. You will never be forgoten. You are forever in my heart.

Now, go play with your new friends, and meet jesus.
Love Always
Tami.





I don't do poetry, never have, but I wrote this anyways:
Mr. Porter.
Sweet little guy.
Stilly in his bead does lie
So it seems, but not to he
For what he's experiencing is nothing we see.
Hugs from Jesus
Oh so warm
Still yet, I can't help but morn.
God bless their family,
Be with them, please,
But there's little Porter, there on your knees.
Sitting, listening, laughing with glee,
Thank you father, for sending him down to us,
Thank you father, we truly have been blessed.
-Maggie





Little baby Porter...
Oh why did you have to leave...
Why didn't you get to stay...

I know this is not okay...
This is not the way...
It should be...
This isn't a life for you or me...

We are much more special than realized by others...
We commit no crimes...
But people seem to judge us...
People look for reasons why...
We come this way...
Only to say goodbye...

Were we a lesson to the people who created us...
Were we hurt by those who love us...
Funny people say those horrible things...

Having a Heart Problem doesn't mean any of those things...
It means you will teach light and love...
A truly blessed spirit send from above...
To teach others about true love...
To teach those who made us about slowing down...
Staring the World in face...
because we wear our own crown...
We are unjustly unrepresented...
One day the world will realize and resent it...

I wish that the technology could have came before today...
That way somehow maybe you could have got to stay...

Oh sweet little baby...
I know you are happy now...
God gave you the 1/2 of your heart that you left when you came down...
I know you are happy...
but your parents are sad...
so are your friends...
we wish you were still what we had...

Oh little child your mom is crying for you...
I hope she isn't wondering what her purpose is without you...
Oh baby Porter laying in God's arms...
You've now gotten all of your Charms...

Rest in Peace...Sleep with Love...

But please don't forget to watch us from above...

I love you and I wish you were here...

♥

Heart Girl





(From SUPERSTARS)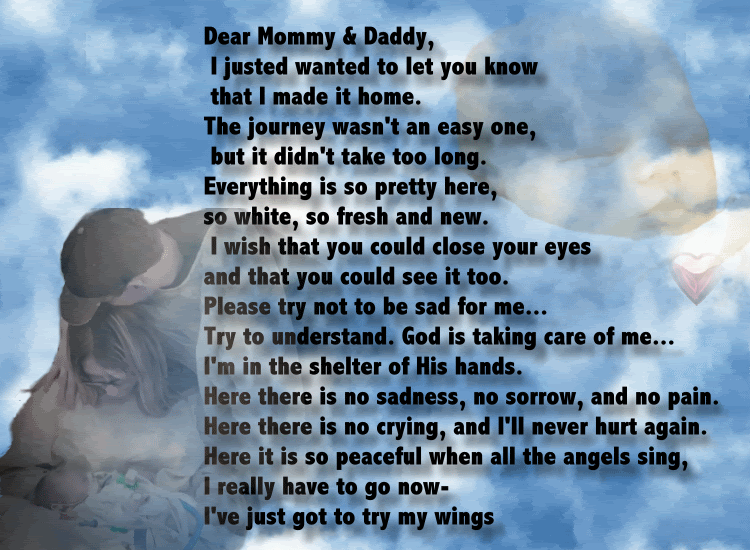 I have a prayer group set up on Facebook and have so many members and I've gotten letters from people who have said that Porter has touched their lives and how much he means to them eventhough they don't even know him! May he rest in peace, and may his family have strength through this hard time, and may God's arms be around everyone during this trouble time.

Colleen






This poem is now for
Porter Jackson Earle 12/22/2006 - 5/6/2007
also

Inspired by Kenneth James Johnson 3/14/2007 - 4/17/2007
For all of the CHD Angels

New Little Angels

Safe at home, in God's arms
Heart once again healthy and whole
The rest of us left here to wonder
Why?
It was only for a short time
But your life here on earth
Will be remembered and cherished
Questions unanswered
Prayers and demands screamed to above
Your family and friends
Even people you have never met
Have been touched by your journey
Inspired by strength
Saddened by loss
Please look down
From your place in the clouds
And send comfort to those that mourn you
Our CHD Family
Has a New Little Angel
Watch over those that remain
Give strength to the other babies
So that they may live with your memory

Written April 18, 2007, by Jessica Reilly






----------------- Bulletin Message -----------------
From: My Angel in Heaven
Date: May 6, 2007 6:39 PM

I thought this was so beautiful....a friend had on her page and said i could use it....




Footprints
These are my footprints,
so perfect and so small.
These tiny footprints,
Never touched the ground at all.
Not one tiny footprint,
for now I have my wings.
These tiny footprints were meant,
for other things.
You will hear my tiny footprints,
in the patter of the rain.
Gentle drops like angel's tears,
of joy and not from pain.
You will see my tiny footprints,
in each butterflies' lazy dance.
I'll let you know I'm with you,
if you just give me a chance.
You will see my tiny footprints,
in the rustle of the leaves.
I will whisper names into the wind,
and call each one that grieves.
Most of all,
these tiny footprints,
are found on mommy's heart.
Cause even though I'm gone now,
we'll NEVER truly part.
Author Unknown.

(and another from My Angel in Heaven)



The Jelly Bean Poem

RED is for my love for you that will never sever...for love is not measured by the time we had together...but what is in our hearts forever.

GREEN is for memories that I always will treasure...although time may pass...our memories will last...forever and ever and ever.

YELLOW is for sunshine that you gave to me...you brightened up my life and made my world shine...and will continue to shine brilliantly for the rest of time.

ORANGE is for the candle's flame I light in memory of yu...flame that glows so bright as I speak your name in prayer...asking God to hold you close...until I join you there.

BLACK is for my grief from my broken shattered heart...taking one day at a time...as I keep your memory alive...life is different...I am different...but I CAN and WILL survive.

PURPLE is for tears I shed as I remember you...precious memories you left behind...preserved deep inside...you will always live on through our family...forever by our side.

PINK is for the signs you send from heaven above...lighting my path wherever I go...and whatever I may do...my precious child...I will always love and always remember you.

Author Unknown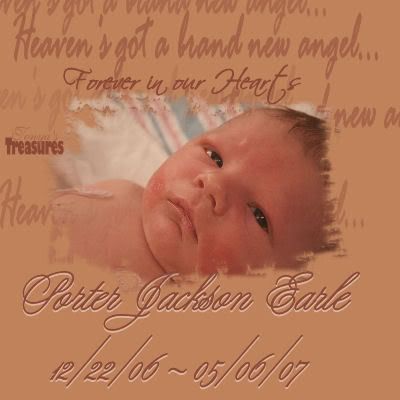 Dear Porter,
oh how I will cry for the chance to meet you is gone, I will cry for the years you didnt get to spend with your mommy and daddy, I will cry for all the wonderful things on earth you never got to experience, like the wind on your face, and the sand in your toes. Eating dirt and collecting bugs. I will cry for all the years of birthday parties and wishes you will miss, and the days of running and playing that you never got to experience. I will cry for your parents and family who will miss you so, and your friends.
I will not cry for you though, Because I know you are happy where you are! I cry as I write this letter to you. but only because my heart breaks that I never personally got to see your beautiful face. No matter what you are a Miracle and you will forever be in my heart! as you will be in many hearts. at only 4 months old you have touched EVERYONES lives!
You will never be forgotten!
I will not cry for you, because now you get to play with thousands of other CHD angels and run and play with no more pain. you will be another one of our Guardian angels.
The best part.. you get to meet dear mr Jesus and God Himself. but I really wish I had had the chance to meet my little Hero.
You are so perfect. and You will me missed greatly! I LOVE YOU PORTER!! and there will NEVER be a day that goes by where I wont honor and remember you and your sweet face! you were just too perfect for words.
Now go PLAY in the heavens and smile you are mended FOREVER
Love,
Chrystal







from Psalm 139

For you created my inmost being;
you knit me together in my mother's womb.
I praise you because I am fearfully and wonderfully made;
your works are wonderful,
I know that full well.
My frame was not hidden from you
when I was made in the secret place.
When I was woven together in the depths of the earth,
your eyes saw my unformed body.
All the days ordained for me
were written in your book
before one of them came to be.





Im alittle late checking my bulletins, but once I saw this one I knew I had to share it.. One takes for granted what tomorrow will lead. In the cases of children of the world of CHD one is told time and time again the only way to "beat the disease is to earn your wings". Sadly Porter earned his wings yesterday while at home with his mom and dad. While I never got the chance to meet him here on earth, Im sure he will be one of the many angels looking out for my CHD child, and the many thousands of other children who suffer on this world. Rest in Peace little one. Know that your family will miss you, but you are whole now and can be free to do all the things your damaged heart wouldnt allow you to do, so they will rejoice in knowing there is no more pain, no more suffering, no more pokes or prods, no more hospitals, no more surgeries.. Nothing but a wonderful little angel flying free.

To all those that are getting this who dont have children w/ this or that, please please be thankful. Please cherish them with all your hearts because life is too short to skip thru missing all the little things. To those that do have a child w/ this diagnose's or that, know our prayers are with you. We all can tell you the day our "life as we know it" changed, it was the day that we learned life was too short to overlook so many things, thinking tomorrow is another day. For some, tomorrow might not come.
Bridget





(repost from My Angel in Heaven)
The Brave Little Soul
by John Alessi

Not too long ago in Heaven there was a little soul who took wonder in observing the world. He especially enjoyed the love he saw there and often expressed this joy with God. One day however the little soul was sad, for on this day he saw suffering in the world. He approached God and sadly asked, "Why do bad things happen; why is there suffering in the world?"

God paused for a moment and replied, "Little soul, do not be sad, for the suffering you see, unlocks the love in people's hearts." The little soul was confused. "What do you mean," he asked." God replied, "Have you not noticed the goodness and love that is the offspring of that suffering? Look at how people come together, drop their differences and show their love and compassion for those who suffer. All their other motivations disappear and they become motivated by love alone."

The little soul began to understand and listened attentively as God continued, "The suffering soul unlocks the love in people's hearts much like the sun and the rain unlock the flower within the seed. I created everyone with endless love in their heart, but unfortunately most people keep it locked up and hardly share it with anyone. They are afraid to let their love shine freely, because they are afraid of being hurt. But a suffering soul unlocks that love. I tell you this - it is the greatest miracle of all. Many souls have bravely chosen to go into the world and suffer - to unlock this love - to create this miracle - for the good of all humanity."

Just then the little soul got a wonderful idea and could hardly contain himself. With his wings fluttering, bouncing up and down, the little soul excitedly replied, "I am brave; let me go! I would like to go into the world and suffer so that I can unlock the goodness and love in people's hearts! I want to create that miracle!"

God smiled and said, "You are a brave soul I know, and thus I will grant your request. But even though you are very brave you will not be able to do this alone. I have known since the beginning of time that you would ask for this and so I have carefully selected many souls to care for you on your journey. Those souls will help you create your miracle; however they will also share in your suffering. Two of these souls are most special and will care for you, help you and suffer along with you, far beyond the others. They have already chosen a name for you."

God and the brave little soul shared a smile, and then embraced. In parting, God said, "Do not forget little soul that I will be with you always. Although you have agreed to bear the pain, you will do so through my strength. And if the time should come when you feel that you have suffered enough, just say the word, think the thought, and I will bring you home."

Thus at that moment the brave little soul was born into the world, and through his suffering and God's strength, he unlocked the goodness and love in people's hearts. For so many people dropped their differences and came together to show their love. Priorities became properly aligned. People gave from their hearts. Those that were always too busy found time. Many began new spiritual journeys - some regained lost faith - many came back to God. Parents hugged their children tighter. Friends and family grew closer. Old friends got together and new friendships were made. Distant family reunited, and every family spent more time together. Everyone prayed. Peace and love reigned. Lives changed forever. It was good. The world was a better place. The miracle had happened. God was pleased.