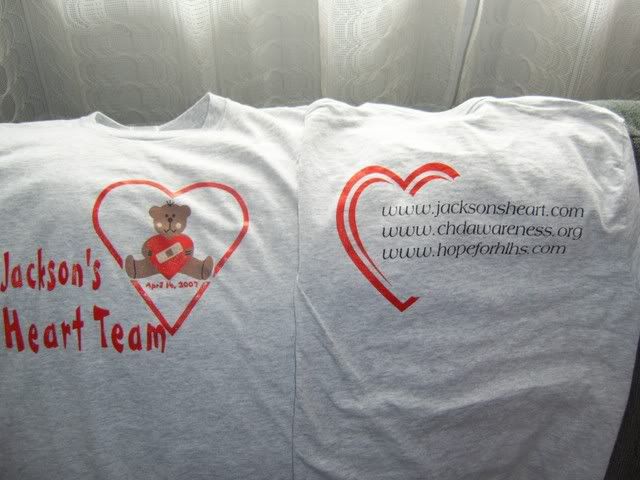 Here are the Jackson's Heart T-Shirts! (Front and Back)
If you have preordered your shirt, contact me if you'd like to pick it/them up before the benefit, or they can be picked up and paid for at the benefit. I will be mailing the out of town shirts on Monday or Tuesday.

There will be some for sale at the benefit, first-come first-serve. The cost at the benefit will be $7, with 100% of the profit going to Jackson's Heart Fund.

Reminder, we will also have the Pray for Jackson Bracelets for sale. 100% of the profit (all of the donation except 38 cents) will go to Jackson's Heart Fund. (If you had any to sell on your own, you can bring any you have left to the benefit)

I have added the Schedule of Events to the Fundraising page off Jackson's web site, check it out!

I am working on the volunteer schedule for the day of the benefit. I do not have all of the contact info for everyone who plans on helping, so you can contact me to get your "assignment" or I will be emailing the person who gave me your name! There is still room for more help, if you want to but haven't volunteered yet, just let me know! If you come to the benefit and decide that day you want to help, we will definitely find something for you to do!